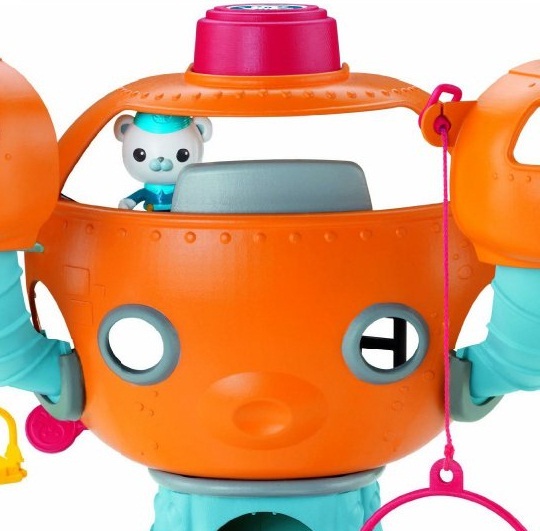 Do you have a child aged 7 or under? If so you'll have heard of the Octonauts. For those that don't, but find they may need to buy for a small child, Octonauts is a CBeebies children's show. That's the BBC for little children.
I like the show, and I'm pleased that my 7 year old son still enjoys it. Although it isn't entirely accurate in some respects - for some reason, the octopus character on the show has to put on a helmet when he goes underwater and there are talking vegetables - the show also puts a lot of effort into teaching children the basics about marine biology in a way they can understand.
Although I am sure that there are marine biologists spinning as I say that! However, as far as accuracy goes this is better than most shows. The motto of the Octonauts is explore, rescue and protect. They travel about the oceans of the world in their Octopod, and that's what this playset is.
The RRP for this playset is £36.99. Which is rather eye wateringly high. I have seen it as cheap as £27.99 on Amazon, and with free delivery too.
It comes in a fairly sturdy box that you can use to store the various parts of the toy if you like. The packing is simple, and easy to remove. The toy is exceptionally easy to set up. There are stickers to put in, for the various parts of the Octopod. This was actually disappointing for my son as he wanted to take it in the bath and play with it under water. I said no as I thought the stickers would spoil.
There's an electronic bit, a pad that when pushed, comes out with all the Octonaut's catch phrases. This sits on the top of the Octopod, and can be easily removed as well.
Everything about this toy is sturdy, and well designed. It all fits together, and is fairly robust. Well worth paying the extra money for the toy I think. You get a number of animals to play with, as well as some accessories such as an anchor, a basket, and a lift for the animals to go to the sick bay. These can be pulled up.
Kwazi and Captain Barnacles are included, and come with a little blue Gup A that can be launched from inside the Octopod by the use of a little trapdoor. There are little pivots in the upstairs part of the Octopod that fit inside the corresponding hole on the character's feet. This means they can be stood up inside and not fall out even when playing with other parts of the Octopod. We've another set from the range, and the figures from that have the same little holes.
Overall I would say this is a great buy, although much better if you can get it at the lower price.