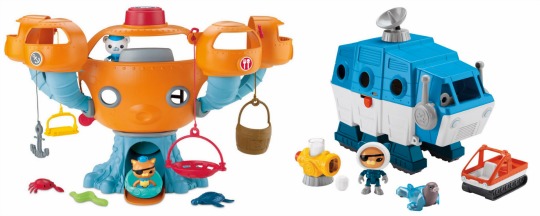 Sound the Octo-Alert...the Octonauts Octopod and Gup I Play Set's are back in stock at Amazon and are down to just £26.79 each from £39.99 including delivery. Does your little one have these Octonauts Play Set's on their Christmas list? If so now is the time to grab them before they go out of stock again!
The Octopod Play Set is the perfect toy for any fans of the CBeebies programme Octonauts. The Octopod looks just like it does on the television series and includes over 10 play pieces, sounds and phrases from the show and a clip on Octo-Alert that plays phrases from Barnacles and Kwazii.
The Gup I Play Set is new to the market, it hasn't been shown on the television series yet and is sure to be very popular amongst Octonaut fans! It transforms into 3 different modes, has sounds and phrases from the show, includes a seal for Kwazii to rescue, a snowprowler for Kwazii to explore with, a snowball launcher and a satellite dish.
Home delivery is FREE on both items for standard delivery.