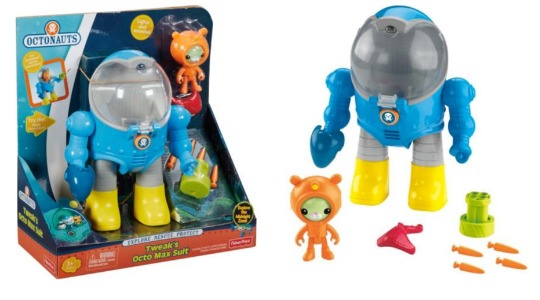 If your kids are Octonauts fans you will be chuffed to bits at the price of this toy, as it was was selling for £25 recently so to get the Octonauts Octo Max Suit for £14.99 is a fab bargain!
The Octonauts is a hugely popular kids TV programme on CBeebies, and the toys are getting pretty collectible, with children wanting to get the whole collection of vehicles, figures and sea creatures.
It's an underwater adventure series which teaches kids about all kinds of sea creatures and the environment, and the toys are great for kids aged 3 upwards.
For £14.99 you get the Octo Max suit, a Tweak figure, a gulper eel, and a carrot launcher with carrots! The suit's Octoalert button triggers sounds and lights too.
Just as a note, I have no idea why this particular character is included with the toy as it wasn't Tweak who uses the suit, but Dashi. As it happens, the episode is on CBeebies right now! There wasn't a carrot launcher either, so expect to have that pointed out to you by the toy's recipient!
Click and collect is free, or you can opt for Home Delivery for £3.
Thanks to labrydog @ HUKD.