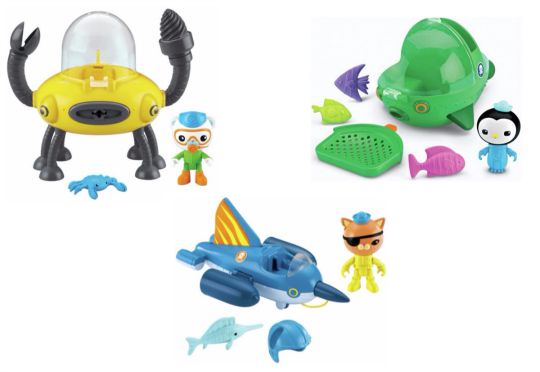 This Fisher-Price Octonauts Gup Fleet Mega Pack is now half price at Argos, down from £49.99 to £24.99, and that's a great price for this set. If you are trying to spread the cost of Christmas then this is a good one to get now and put away for December.
In this Gup Fleet Mega Pack you get three of the gup vehicles, three characters and loads of accessories. Considering the gups individually usually cost around £15  to £20 this is very good value. They can be used in the bath tub too, so expect bath times to take a little longer!
You get Peso and his medical ship the Gup E, Captain Barnacles and the Gup D with it's super strength pincer claws, and Quazi the Pirate Cat with the Gup R. What's really sad is that I knew all of that without even glancing at the product descriptions - there are two Octonauts fans in this house and I have been subjected to lucky enough to watch the episodes many times. Over and over and over...every single one. Go on, ask me a question. My favourite is the humuhumunukunukuapuaa. ;)
Anyway, if you have an Octonauts fan in the house this is a really good value set, and the reviews are great as well. Stocks seem to be very widely available, both for the free reserve and collect from store, and for home delivery for an extra £3.95.
Thanks to Curlynob @ HUKD