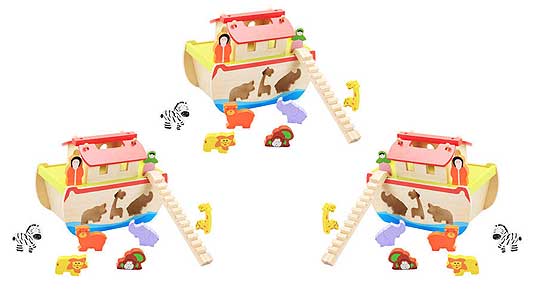 Kiddicare are selling this rather lovely Noah's Ark wooden shape sorter for £7.50 instead of £15.00.
Click HERE to take a look at the Noah's Ark wooden shape sorter *
A wooden shape sorter - that's my idea of toy heaven!  No batteries, no bells, no whistles, no flashing lights, no 'fun phrases', absolutely NO irritating melodies AND to top all that off...shapes to sort; marvellous.
I have a bit of 'thing' for shape sorters: I find myself utterly compelled to sort the shapes if they haven't been sorted, and feel a tremendous amount of satisfaction when they have been.
With this Noah's Ark shape sorter you'll be able to teach your child the colours and names of the animal shapes, and their problem solving and fine motor skills will also be developed as they work out which shapes fit into which holes.
There are six animal shapes in total, along with figures of Mr and Mrs Noah (I have no clue what Noah's wife's name was) and, of course, their ark.
There's nothing extra to pay for delivery of your Noah's Ark wooden shape sorter, so £7.50 is all you need to part with.
Thanks to cazzap06 at HUKD