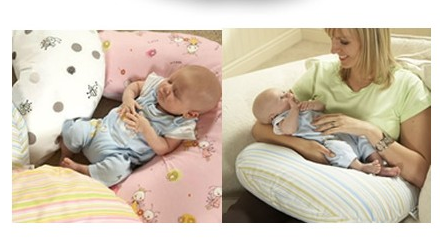 Kiddies Kingdom have the Tippitoes Nimbus Nursing Pillow on sale for £9.99 with the code below, down from £49.99. I've not heard of this brand before, but I can tell you that normally their covers alone go for more than this. Your delivery is an additional £5.95 making the total £15.94 if you're not spending £50 for free delivery. While that's a really hefty delivery price, it's still the cheapest you'll find this pillow, I believe. This pillow also comes with an add on spare cover, for about half the price - £4.99.
Use the code BOUNTYNIMBUS to take 80% off at the checkout
I didn't have this nursing pillow with my babies, but I did have something not too dissimilar looking. It was a godsend, both for my pregna-belly, and for newborn tummy time. It was great for propping an almost -sitter up in, and even now is nice to cuddle up next to and then of course, it's purpose too - it's a great nursing pillow shape.
This one is available in Blue Candy and Pink Candy - a bit of a bummer if you're not finding out baby's gender before the time (I'd go blue).
The Tippitoes Nimbus Nursing Pillow has an adaptive bead filling, meaning it will mould to any shape, be that baby, bump or back. It has interchangeable covers, which can be bought separately and are fastened by zip. The covers are machine washable and 100% cotton.
Anyone tried this brand? Would you recommend it?