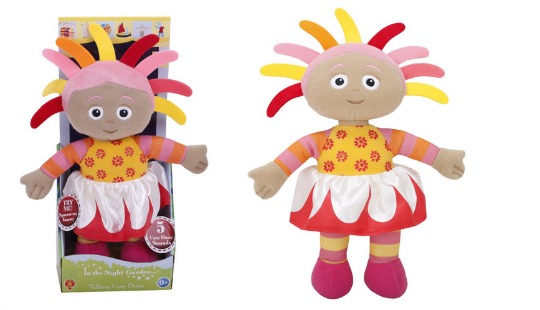 This In The Night Garden Talking Upsy Daisy toy looks like a great buy for only £6.74, and Tesco reduced it as part of their big toys sale, and Amazon have price matched.
She is 23cm tall, soft and cuddly and says phrases from the TV show when you squeeze her tummy. Seeing as it's really young children who love the show it's good to know that this toy is suitable from birth so it's safe for the toddler fans.
I know there have been no new In The Night Garden episodes for years, but CBeebies still show it at 6.20pm every evening, and the one time they moved it they were flooded with complaints. Lots of parents use the programme to wind down their toddlers before bedtime, and there are always new fans because of this. My youngest is just short a few weeks away from turning two, and he has just started to take a shine to In The Night Garden, but he's sticking to gender stereotypes and liking the Ninky Nonk rather than Upsy Daisy!
Amazon will delivery this for free if your total ordered is over £10, otherwise delivery charges will apply. You can click and collect from Tesco for free, or delivery charges are from £3.