In The Night Garden Rocker £9.99 @ Play.com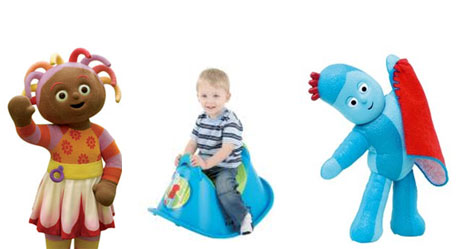 Play.com are selling this In The Night Garden Rocker for £9.99 instead of £29.99
When I first read 'In the Night Garden Rocket' I got an instant mental image of Iggle Piggle with shades and a leather jacket on, going a bit of Guitar Hero, but alas this was not to be.
Instead an In the Night Garden Rocker is a sit-on toy that rocks - awesome for any In the Night Garden fans and great for kids who have no interest in rocking toys that look like horses.
It features Iggle Piggle on the front, has Upsy Daisy on the back and the In the Night Garden logo on the side.
If you've never watched In the Night Garden then you really should make a point of watching at least one episode - I'm still undecided as to whether it's sheer genius or just completely bonkers.
There's no delivery to pay on orders to be delivered within the UK so £9.99 is the total amount you'll be parting with for an In the Night Garden Rocker.
Thanks to Darroch at HUKD