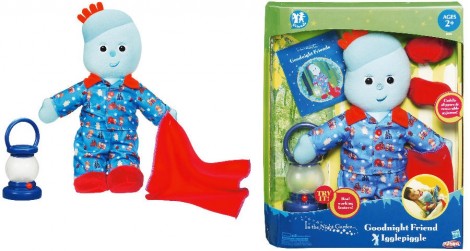 What sort of rituals do you go through for your little one as part of the night time routine? My son has always slept better if he's had a favourite 'friend' to look over him. So something like the In The Night Garden Pj Iggle Piggle would have been perfect. He idolised Iggle Piggle when he was 2! Tesco has this toy on special offer online at the moment, marked down from £19.97 to £13.47.
Delivery is free if you can arrange for store collection. Check that your store has this facility on the website before you buy.
The Iggle Piggle goodnight friend figure, from the In the Night Garden television series, is made from plush fabric that children will love to cuddle. Iggle Piggle has removable pyjamas and slippers, and will hopefully encourage your child  to wind down for bed time. You can also use the toy to help them learn to dress for bed.
Along with a bed time story book and a cuddly blanket, the gentle reaasuring glow from the lantern will help to ease your child to sleep. Batteries are included. And the recommended age range is for 2 years and upwards.
Thanks to alexoid at HUKD!