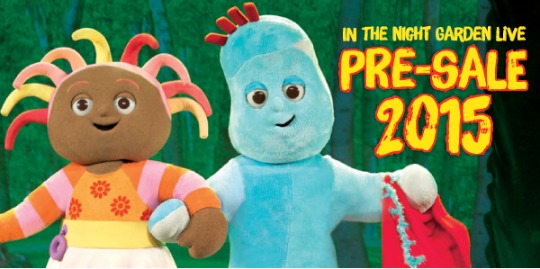 Do you have an 'In The Night Garden' fan in your house? Our first was a huge fan, and our youngest is just getting into it now. As adults it's hard to see why toddlers love it so much from the TV show, but the Live Show is something else altogether. It's amazing, and I would really recommend it.
The Live show is in London, Birmingham, Manchester and Glasgow, and all the dates are on the official website, running between May and September. Booking opens to the general public on January 30th, but if you register now then you will be emailed a personal discount code before the Pre-Sale Booking opens on January 23rd, so that you get cheaper tickets and first choice of the dates. As the shows usually sell out it's a good idea to register now.
It was 3 or 4 years ago that we went and I still remember how captivated the children were. Although it's a stage show it's inside a purpose built dome, and as well as the characters being on stage there are lights and pictures projected around the dome so you really feel like you are in the garden! We ended up on the front row and it was hard to stop my son from climbing onto the stage at points, but he had to make do with standing at the front dancing and joining in with the songs and actions along with the other kids.
Tickets can be pricey for some of the shows, but they normally start at £10 so a discount will definitely help.