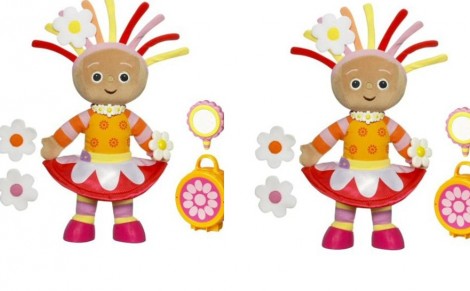 Play is selling the Dressy Upsy Daisy doll for £8.99 instead of the usual £19.99 which is a hefty saving of £11 off the original price. In fact, that is over half price in savings. What a fabulous bargain for a very popular range of toys.
The Dressy Upsy Daisy doll is a soft plush toy that has bendable hair for fun and easy styling by kids over the age of two. Her skirt is inflated, just like it does in In The Night Garden, and she comes with a bunch of accessories to dress her up.
You can use the included necklace, bracelet, hair flowers, removable shoes, shoebox and mirror accessories to make Upsy Daisy presentable for her nightly performances on the show. I have to admit that I think the original price of £19.99 is way too steep for this product.
I would never have paid that much for a doll that comes with so few accessories and bendy hair. However, £8.99 plus free delivery means that this is a very good price for an In The Night Garden accessory.