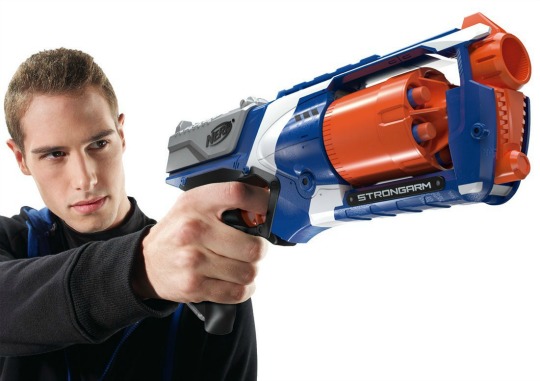 Even in our largely weapon-free household, Nerf guns have become a hit.
Believe me, we tried the whole 'no guns' approach with our boys but as every parent of sons knows, they simply fashion a stick into their weapon of choice or cock a finger in your direction and make those super-irritating shooting noises instead. And since this isn't a hill I'm prepared to die on (pick your battles is surely the first rule of parenthood) I've had to concede that Nerf guns are going to be part of our toy collection for some time to come. Plus it's amazing how much fun you can have with one once the kids are in bed...
So regardless of whether you're buying this for battle-loving little ones or just for your own entertainment, Amazon is currently offering this Strongarm blaster for £6.00 instead of £9.99. The reviews on the Amazon website are good - 18 out of 22 reviewers have given it 5 stars, and one enthusiastic customer goes so far as to say that Nerf have outdone themselves with this Blaster.
It comes with 6 Elite darts, and if you pump the Slam Fire slide repeatedly while you hold down the trigger you'll get a rapid fire feature. For easy loading, flip open the rotating barrel. Just watch where your bullets go, unless you want to do a lot of 75 feet dashes to retrieve them!
Thanks to Poppyj1 at HUKD!