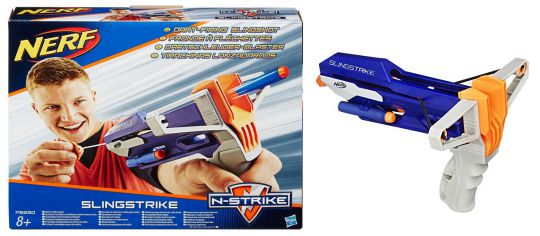 The Nerf N-Strike Elite Slingstrike Slingshot is on offer at Tesco Direct at less than half price. It was £11, but has been reduced all the way down to just £4.47, and it's still full price in all other stores.
Apparently this is a super-fast dart blaster that comes with 2 Elite Darts that you can store on it's arms. You just load it with a dart and pull back the string to fire.
Click here for the Nerf N-Strike Elite Slingstrike Slingshot @Tesco Direct*
My kids are too young to be playing with toys like this, but I know the eldest is busting to get his hands on Nerf toys and I'm using the 8+ sign on this one to put him off (and the 'kid' on the box looks way older than that!).
This is such a good price that it's worth getting an a stocking filler or standby party gift. The Tesco website does say that this Elite Slingtrike Slingshot is 'while stocks last' so it could sell out fast, and tops their best seller list of reduced toys at the moment, so be quick!
You can click and collect for free from any Tesco store, or home delivery charges are from £3