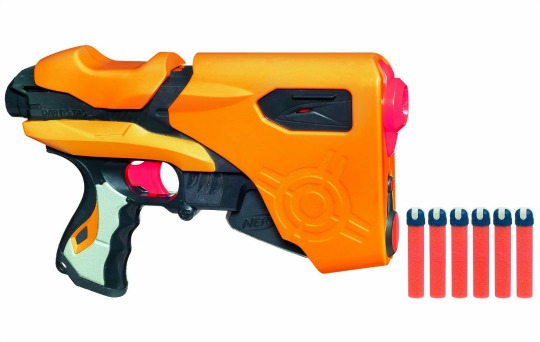 Amazon has a 70% clearance sale on selected toys and games right now, and this Nerf gun is a steal at £4.25. instead of the usual price of £14.18.
This air-powered blaster lets you return fire and load super-fast, while the integrated clip holds six darts. This shoots the new Nerf Dart Tag darts which whistle as they fly. It's recommended for children aged eight years old and over, but isn't safe for children under 36 months months of age.
The reviews are good too - this item has scored an average 4 out of 5 stars in reviews from 79 customers, and here are some typical comments:
"My boys love these! Managed to get them half price on Amazon! Great as a starter Nerf gun and fantastic that you can buy replacement darts. Will definitely buy more of this brand as so easy to load and use! Only downside is... if you buy these for your husband and son to play about with then do not be surprised if you are shot at all day and ambushed whilst cooking Christmas dinner, haha!! Don't worry it's a foam dart with a Velcro head so it doesn't hurt!"
Best of all, a pack of 36 refill darts is also currently £5.97 instead of £6.16 and based on our experience with Nerf guns, you can never have too many replacement bullets.