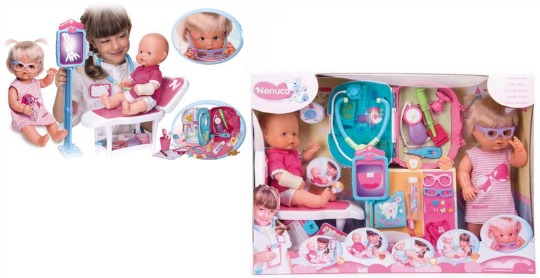 This Nenuco Medical Visit Doll Set was around the £60 mark before Toys R Us kindly dropped the price. It's £61.99 from Amazon for a start, and is actually not that easy to get a hold of. If you have have bought enough toys for this year, then this is definitely one to tuck away for a birthday or even for next Christmas is you are super organised. £40 off is a LOT of money. This doll set is out of stock but is eligible for the FREE Click & Collect service.
This isn't just a doll and some crumby accessories, for a start you get two dolls, a 16.5" toddler girl doll and a 14" baby boy doll. Plus it comes with an examination table, X-ray machine, eye chart, cast, glasses, and dental treatments. It comes with many more accessories and makes this such a great toy for little kids.
It is suitable for children aged three years and above due to all of the bits that it comes with. Think beyond Christmas for this amazing bargain.
Thanks to fionaf1979 @ HUKD