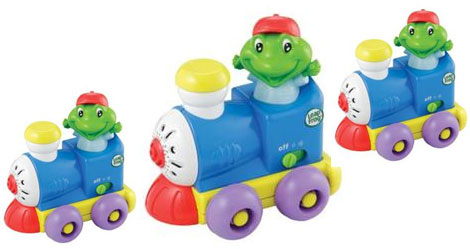 There's a whopping 66% off the Musical Movers Choo Choo toys at Mothercare. While it's been that price for a while, it's still a great price.  Reduced from £14.99 to £4.99, it's a great price for a fun toy for kidlets aged nine months and over.
My daughter has a little musical train that choo choo's it's way around the living room, and I adore it – not least because it holds probably a good fifteen tunes, meaning it doesn't drive me crazy quite as quickly, and is one of the few toys that I do replenish the batteries when needed.
The Leapfrog Musical Movers Choo  Choo train sings a counting song. It teaches letters, numbers, vehicle names and of course, music.
While it's not a particularly new offer, and is at that price regularly, it's a fab price if you're looking for Christmas or birthday gifts under a fiver.  Postage is a rather hefty £4.95, however,  so you're better off picking it up in store, or reserving for pick-up. (Alternative, you can pick it up at Play.com for £5.00 including postage!)