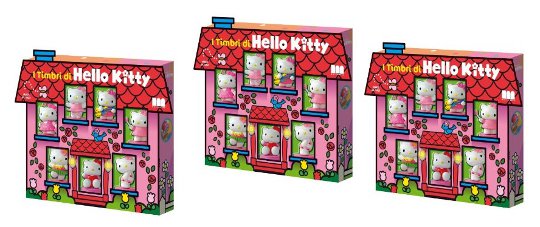 I'm not sure if this is a glitch in Amazon's system or not, and I don't suppose it'll be round for very long, but for those of us that manage to grab it, this is a steal. Usually retailing at £19.99, there's pretty much 100% off the Multiprint House of Hello Kitty Figurine Dolls, selling at 1p – but there's £4.62 shipping to consider as it's a marketplace seller. Even so - £4.63 for what would have been £24.62 is not bad going, in my book.
You can also get it Amazon for £10.26, including delivery, which is still 49% off.
So, what is it? Well, it's a stamping kit, with seven Hello Kitty designs, in a Hello Kitty 'house'. There's an ink pad built into the clip on lid, and the box is more than just packaging – you can actually use it for storage.
The grammar in the description is a bit off, it's dispatched from an Amazon seller (which I've never had any problems with!) and there's a hefty postage fee, but for a Hello Kitty fan, this could make a lovely gift. I know my two year old is loving using stamps at the moment,  and I think these would be a hit!