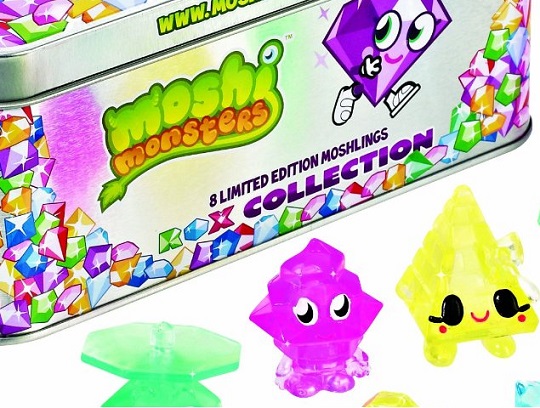 My son was given this as one of his Christmas presents and he absolutely loved it. The Moshi Rox Tin Game is sold by Fun Collectables and fulfilled by Amazon. The price has been reduced from £11.16 to £5.75, and standard delivery in the UK is absolutely free.
You get a surprisingly large tin, and the Moshi's inside are all semi transparent. This was a big plus for my son. The tin was the big plus for me as we keep all his Moshi monsters in there now. You get eight Moshi's in the box.
In the Moshi Monsters world, they say rox talks. In the form of crystals, gems and rocks, rox is Moshi money and it's used to buy a whole host of goodies. These limited edition Moshlings are totally "rox-ified", making them even more appealing that their currency counterpart. Each tin contains the same eight exclusive, limited edition Rox Moshi Monsters. The Moshi Monsters Rox Collector Tin is suitable for ages 4 years and up.
This customer review is one I definitely agree with. "This is a pretty good value set I think. It has eight in the box and they are well presented. The tin is sturdy enough, nicely decorated and the (unhinged) lid goes on easily, even for a 7 year old."
Thanks to doodygirl at HUKD!