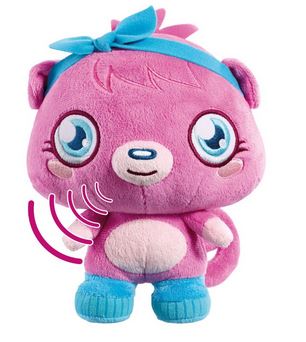 Amazon have an offer on the Moshi Monsters Talking Poppet Plush, selling at £7.49 instead of £14.99. Looking elsewhere, new, the prices start at around £15 with shipping.
My poor daughter has a cruel mother. We were at a friend's house recently and she left her little Moshi Monster there. It was dark and rush hour by the time we left, and almost home she realised she didn't have it anymore. I refused to drive all the way back for the lost toy and my little one cried for ages. My friend's son took it to school the next day and that was the last we saw of the Moshi Monster. I do feel bad though, and think this replacement might make up for it.
This particular style of Poppet can really talk. She's a soft toy and when you squeeze her tummy you hear her speak. She requires 3 x LR44 batteries, which are included and is suitable for ages 4 years and over, which my daughter would agree to.  I think she might make a little girl very happy on Christmas morning - and if you add a few more items to your basket, don't forget Amazon's £5 off £25 spend either!