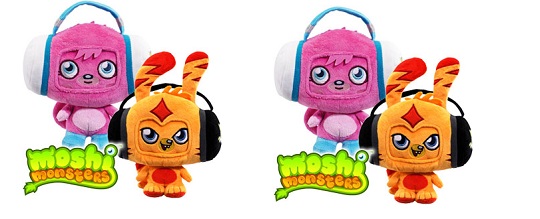 Home Bargains is still saving lots of money for yoooo today with these cool Moshi Monster figures. They have been dropped from £19.98 to £7.98 so you are saving £12. It's a pretty cool price reduction on a great Christmas gift.
Take your soft toys into a new dimension and start a whole new way to play. Download the free app and insert your device into the Moshi Monster to animate their face. You get four different play modes and you can choose from Monster Mode, Dress Up Mode, Super Mode and DJ Mode. Just insert your iPhone or iPod Touch.
The price includes both Katsuma and Poppet I think, it says so on the site, and the app is completely free to download. It's a pity that they haven't set this for Android devices as well, especially considering there are more of them, but it is still a cool little toy.