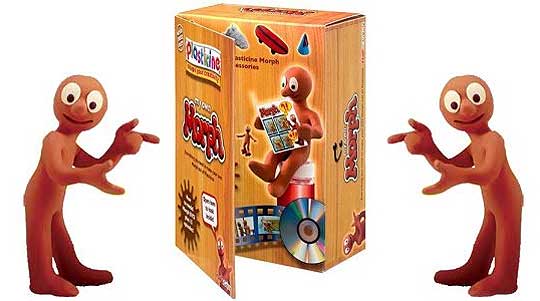 If you head over to Amazon you'll be able to pick up a My Own Morph set for £4.71 - his usual price is £12.99.
I've written about My Own Morph before and this is by far the cheapest he's ever been - he was double this price last time and, even then, he was a bit of a bargain.
I adore Morph - we have one in the office: he's sitting astride a huge piggy bank, waving a cowboy hat in his left hand - just think Pig Rodeo Morph and you'll be picturing him perfectly.
You'll need to be of a certain age to fully appreciate becoming the owner of a My Own Morph - if you don't remember the mild and gentle manner of Tony Hart, and the fabulousness that was Take Hart and just how naughty Chas and Morph were then, quite frankly, you have NO business having a Morph of your own.
This Morph won't talk, move or get up to mischief like the real Morph did, but that won't matter because he'll be YOUR Morph - created and born from of your own fair hands!
He comes with a step-by-step instructional DVD, some accessories to add character to your Morph - a beard, a magician's hat, skateboard etc (personally, I think I'd like my Morph 'plain') - and 15 original Morph episodes on DVD too.
Thanks to lilliesmummy11 at HUKD!