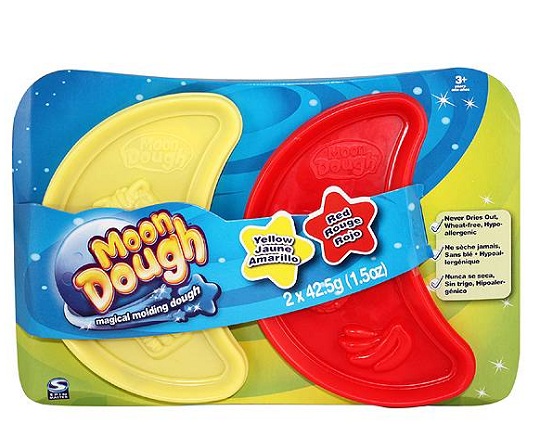 This is a decent deal for those of you who like Moon Dough. It's funny, but it is really the kind of product that you either love or you hate and for the lovers, this price should make you rather pleased. It is a double pack of Moon Dough for only £2.97 and you can arrange to collect it instore for free.
You can create lots of interesting shapes out of Moon Dough and reuse it as often as you like and whenever you like. The Moon Dough double pack contains plenty of this magical dough that can be stacked, squished or cut into shapes. You can slide the dough about, and it never dries out. The double pack Moon Dough set includes two reusable and stackable containers as well as plenty of Moon Dough.
If you look under the lid, you will also find a unique character mould to create your own figures! Moon Dough comes in eight different colours, including white, blue, red, green, purple, pink, yellow and orange and only two colours of Moon Dough are supplied with each set. I think it is pot luck as to which colours you get in your set.
Thanks to wishihadadonkey at HUKD!