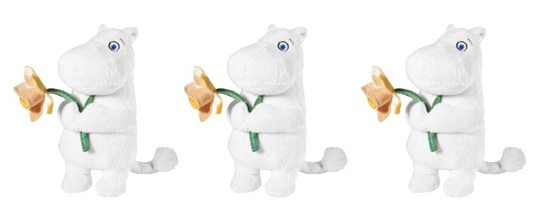 Ohhhh this little Moomin soft toy carrying a daffodil is just too cute, if you don't remember the Moomins then you're far too young and are probably on your school Easter holidays, but she's cute all the same and is only £5.89 at Amazon at the moment.
I used to watch the Moomins at my friend's house after junior school - Charlotte her name was - and whilst we thought it was one of the strangest little programmes out of all the kid's things on TV, we watched it regardless.
She's not too big and she's not too small, standing at 6.5 inches and even though I'm nearly 40...I WANT one of her!
There really isn't much else I can tell you about a Moomin soft toy holding a daffodil - she doesn't do anything:  she doesn't sing, she doesn't dance, she can't say any Moomin phrases because the Moomins didn't speak and so, as a result, she doesn't need any batteries.  She just needs a home and lots of cuddles.
All the usual Amazon delivery options are available to you, so you can have your Moomin soft toy delivered for free in a few days or you can pay a little bit extra for her to be sent to you sooner.
Thanks to wishihadadonkey at HUKD