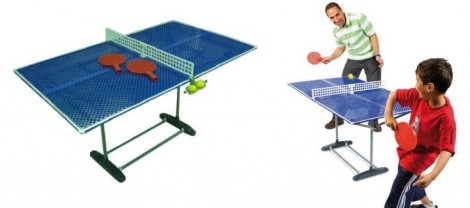 Sometimes you just need toys that are a bit more active. Especially as they get older and want you to play more with them. Something like table tennis is perfect for that. Amazon has reduced the Mookie Swingball Smash Table Tennis Set from £68.99 to £46.01. That's 33% off the original price.
Swingball Smash is a game based on table tennis. Its compact size, soft foam ball and lightweight Checkerbats mean that it's suitable for players from  6 years old. The website claims that "more experienced players will enjoy fine tuning their skills, practising serves, returns, spins and smashes on the patented Checker surface."
You can play inside or out--the table's stand claims to be sturdy enough to enable you to set up on any level surface so you can play outside in the garden or inside the house when the weather is inclement. There are wheels on the base of the stand.
How do you play? Mostly just like the classic game of table tennis--serve, return, smash and score.
The checker surface comes complete with a clip on net, paddle bats and balls with optional ball and bat holder.