Mookie Spiro Bouncer £29.99 Delivered @ Amazon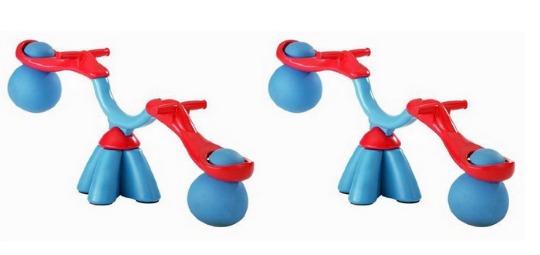 It's my son's birthday next month. As usual he has a list as long as my arm of gifts that he just has to receive. On it is the Mookie Spiro Bouncer.
Amazon have this for an impressive £29.99 delivered just now. Considering this is £57.99 at Argos and is £48.00 in the Debenhams sale, this is a good price.
It is suitable for inside or out. If you have the room to use it inside, then it has foam pads on the bottom to protect the floor. I must admit you'd need a fair bit of space to accommodate one of these in the house.
With the ability to spin 360 degrees and bounce up and down, I think I would be more comfortable with it outside to prevent breakages and accidents. I must admit, it does look good fun and I can see why my son wants it for his birthday.
If you are worried about how stable it would be with two very excited children bounding about on it, then worry not, as you can fill the base with sand for extra weight.
It's a bit boyish looking with the blue and red colour but it will appeal to boys and girls equally.  The maximum weight is 25kg per seat, so if you have children of various ages this should suit. Unless, they are teens of course. Ages two to five is suggested.
They have been designed to improve strength, balance and develop co-ordination skills in your little one.
I do like the idea of these as I have lost count how many times one of mine has hurt themselves from a jolt on the see saw. The bouncing balls on the bottom of these should prevent this from happening.
There is a pump included to inflate the balls and it is self-assembly. It thankfully comes with an instruction guide for ease of construction. I do not know how hard it will be but I am useless with building anything and would probably get my other half to build it, for the sake of my children.