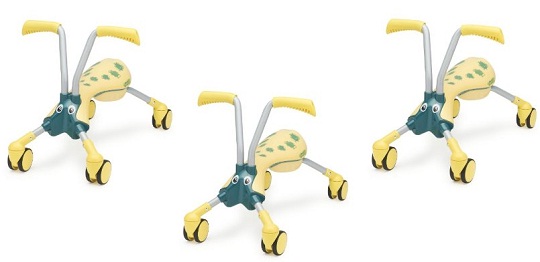 If you're a godparent or aunt/uncle, then you'll be the favourite non-parent adult if you get the toddler in your life one of these! OK well maybe you'll be a favourite with the child's parent. But that's the same thing at this age. I just absolutely love these and wish they'd been around when my son was little. The Mookie Scramble Bug Yellow has an RRP of £39.99, and is available on Amazon at the moment for £23.99. Delivery is free with Amazon Prime.
Scramble Bug is a unique ride on as it moves in all directions (360 degrees) for a more fun and stable ride for 1 - 3 year olds. At least that's the age range given by the manufacturer. From some of the comments by reviewers it would seem a toy more suited to the younger end of that range.
The Mookie Scramble Bug enables them to develop necessary pushing and steering skills required to ride tricycles. The Scramble Bug is ideal for children to learn how to move around freely with the stability of handle bars that remain fixed. Folds and unfolds in three simple steps, folding down to a compact size for portability.
Omni directional for complete freedom of movement as the Scramble Bug has incorporated castor wheels and clean, hi-tech styling inspired by insect anatomy including coated wheels for a quiet ride.No assembly required just a few quick movements and the ride on has an appearance of a realistic insect. Fold the back legs down, fold under front wheels and handle bars and the Scramble Bug is ready to store or transport.
Thanks to wishihadadonkey at HUKD!