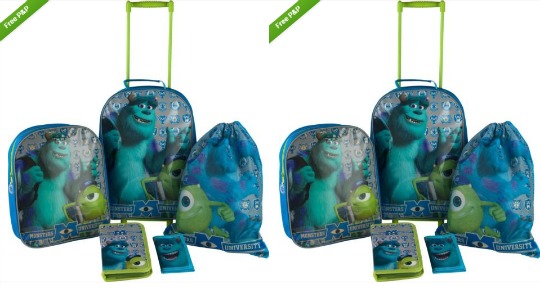 Woweee! What a bargain this is! I am sure none of you will argue with me on that. FIVE Monster University items for £11.99 plus FREE delivery. It can be hard finding Christmas gifts other than toys that the kids won't just chuck to the side in disappointment. This set is just ideal, it's practical and will have the kiddy appeal too. It's being sold by the Argos Outlet on eBay, so will have been sold for lots more on the actual Argos site at some point. Most likely when the film came out.
Right, so there's five items in this Monster University Bag Set: A backpack, a swim/gym bag, a filled pencil case, wallet and a wheelie trolley suitcase.
Take it from someone who used to commute frequently by train between Birmingham and Scotland, by train with two under fives, wheelies suitcases are a mum's best friend in such scenarios.
Each item in this lovely bag set is emblazoned with Mike and Sulley, the main characters from Monsters University.
Thanks to wiggywig @ HUKD