Molly Dolly My First 3 Wheeler Doll Stroller £13.49 Delivered @ Amazon Seller Net_Price_Direct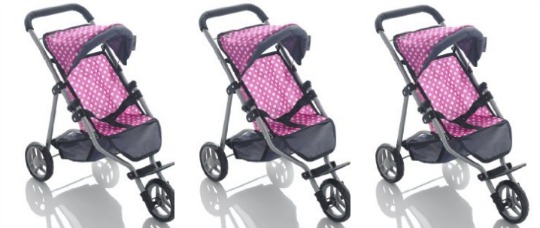 I like this Molly Dolly My First 3 Wheeler doll stroller, what I like even more is the fact it is only £10.99 plus £2.50 postage. £13.49 for a really cute 3 wheeler pushchair is a right good deal. You will find this bargain over on Amazon, where it is being sold by Amazon seller net_price_direct.
Now, you might not have heard of Molly Dolly dolls before, neither had I, but don't fear because this 3 wheeler doll stroller got 4.5 stars on Amazon. Seems good for the money.  By the look of it, with it's stylish polka dots design, it looks like it would please any doll carrying little girl.
It is suitable for children aged three to five and the handle height is 53cm tall. This folds down flat for when it's not in use so there will be no tripping over it in the hallway. It's lightweight to make it easy to push and of course feature three wheels. There's a fairly big basket underneath for all that junk that your tot will insist on dragging along and an adjustable hood.
All in all, the Molly Dolly My First 3 Wheeler doll stroller seems worth the price tag, as does the Travel Cot*, highchair* and four wheel stroller*, in the same range.
Thanks to northerngal77 @ HUKD