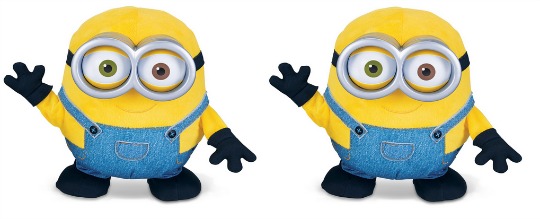 The Minions Movie is now less than two weeks away from the cinemas, and the little yellow guys are popping up everywhere on every piece of merchandise you can think of. Everyone loves them, so when we see a great Minions deal we will make sure we tell you about it.
This Sing and Dance Bob toy is one of the new voice activated toys from The Minions Movie, and his RRP is a shopping £64.99. Most stores are selling him for at least £55, but for some reason Tesco Direct has reduced him by £27.99 and he can be yours for £37! Although that is still a lot of money for a toy, it's around £20 cheaper than everywhere else!
Sing and Dance Bob does what his name suggests. His arms move up and down, his feet move him left and right, and he sings and responds to sounds like clapping. There are a ton of video reviews of him along with Rock N Roll Stuart (who is not reduced) so that you can get a better idea of what he does.
Bob can be delivered for £3, or you can click and collect for free from any Tesco store in the country, including Tesco Express.
P.S. Bob is included in the Clubcard Boost too, so he would cost you £18.50 worth of points. :)