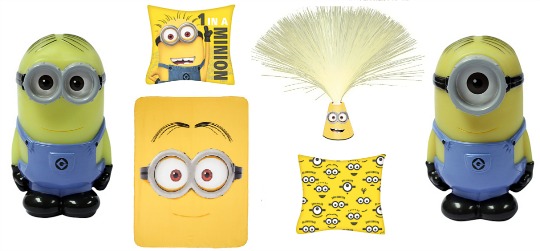 Everyone loves the Minions don't they? If you want to add some of the cute little fellas to your house then Asda George have some fab little home accessories, with a few costing just £6 each.
For that price you can pick up a lovely warm fleece blanket, a cushion with different designs on both sides, the Illumimate LED lamps of Dave or Stuart that we have featured before, or the completely mad looking fibre optic lamp.
For an extra few pounds there are also clocks, a rug, light shade and lamp, as well as the matching bedding, but the £6 items are the best value.
All of these Minion accessories can be collected from stores for free, of delivered for a charge of £2.95. Just a couple of these can make a big change to a child's room, or you could just go crazy with it and get a load. Of course although they are in the kids section there are plenty of grown up fans as well. We need another lamp in the living room ... the fibre optic one is calling out to me...