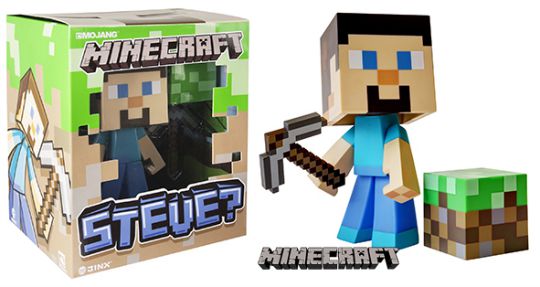 This is a cracking little buy for Minecraft fans, saving 50 % off the rrp, and around £10 better than the next best price anywhere! The 16cm tall Minecraft Steve Vinyl Figure is new to Home Bargains and is just £12.99, rather than £24.99.
This is a collectible and poseable figure, and at 6 inches tall with his own 2 inch high dirt block plus a pickaxe he is ready to start building. This figure rarely goes under £20 so this is a good time to snap one up for birthdays or Christmas.
On the Home Bargains website there is only this original Steve figure listed, but in stores there should also be Diamond Steve and Creeper figures on their way, as the web page says to collect all three! A set of those would make an excellent gift for anyone who loves Minecraft.
These figures are available in stores subject to availability, or you can order online for home delivery. Charges are calculated on an individual basis at checkout according to parcel size and destination, but are likely to fall in the £3.49 price bracket. Even with delivery this is still the best price you can get this Minecraft Vinyl Steve figure by a long way.