Minecraft: PS4 / XBox 360 £8.86, XBox One £9.85 @ ShopTo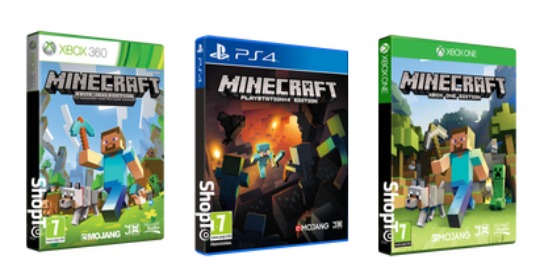 If you were waiting for a price drop before buying Minecraft then this is the cheapest it has been!
Shop To have the PS4 and XBox 360 version for £8.86, and the XBox One version for £9.85 which are both amazing prices, and FREE DELIVERY is included too.
These massive bargains are part of ShopTo's Pay Day Sale that they are running at the moment, and they are beating competitors' prices on so many games and consoles. Minecraft is one of the best bargains I thought, but there are plenty of other games that are on offer, so it's worth a look for adults too.
Personally I love Minecraft as it's not violent (when you're in creative mode at least) and is like using virtual lego without it being so expensive or messy! My son loves making weird and wonderful creations when he plays, and he's having to develop his problem solving skills too.
So, that's half term sorted! ;)