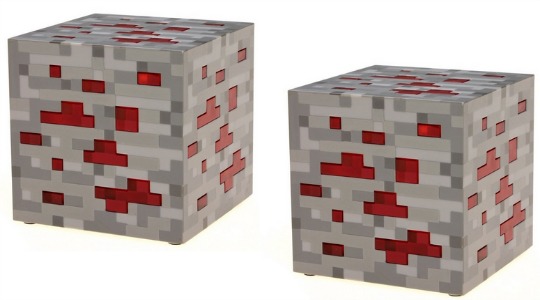 Feeding the habit of Minecraft fans is expensive, so whenever we come across Minecraft deals we make sure they are shared ASAP. Get yourself over to Amazon and you will find the Minecraft Light-Up Redstone Ore for just £16.46, plus you get FREE Super Saver delivery included.  NEVER EVER have we seen this so cheap, so we are expecting it to go fast. To get it for this price, just look down the right hand size of the page.
It might look like a crumby block of pixels but to a Minecraft fan or a "miner" these are so much more. They light up and give rooms a nice, warm glow. Plus they look like they have been plucked straight from that popular game.
This will please any child aged 5 to 33 years old because we know that EVERYONE loves Minecraft. It is worth noting that these fit in your hand and aren't huge lamps. Although, Minecraft merchandise is not known for it's value for money, but it is sought after.
If you are on the lookout for a Mincraft gift, that won't leave you bankrupt then this could be it.