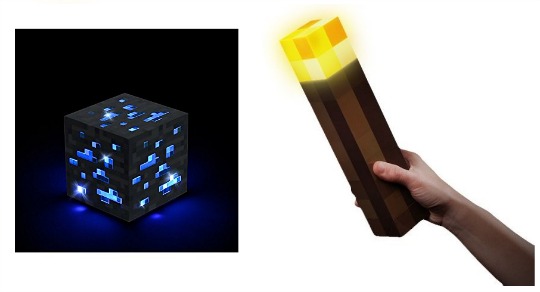 Do you think all these cool lights are getting cheaper because we changed the clocks and the days are longer? Actually I don't think I'm that bothered why, but these Minecraft lights are cheaper now than I have ever seen them, and that's good news.
The Minecraft Light-Up Redstone Ore has an RRP of £29.99, has been selling for around £16 previously, and now the Amazon seller London Tykes has them for £13.99. Not bad at all!
My favourite (yes, I'm geeky) is the Minecraft Light Up Torch which is now £15.69 , sold by ThinkGeek (ah..). That's about £5 less than it was selling for recently.
Then there's the Minecraft Light-Up Diamond Ore at £16.79, sold by Tru Inertia.
All these are sold by Amazon sellers, but all are fulfilled by Amazon themselves, so all qualify for free delivery. From reviews it looks like the Torch is the best value as it's so much bigger, but if you are a Minecraft fan whether old or young I think any of these would be a really welcome gift.