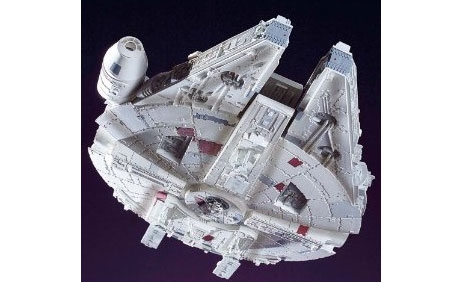 Play are selling this Millenium Falcon Model Kit for half price - £17.99 instead of £34.99.
Of all the Star Wars spaceships the Millenium Falcon is by far my favourite and, I think, one of the most iconic.
Shaped like a giant croissant, and always in need of repairs, she was regarded as piece of junk by most but, and allow me to quote Han Solo here, "She'll make point five past lightspeed. She may not look like much, but she's got it where it counts, kid. I've made a lot of special modifications myself."
YOU, on the other hand, won't have to make any modifications.
All you need to do is snap all of the 52 pieces of this Millenium Falcon model kit together and because there's no messy glue involved, you won't have to worry about getting told off.  Sorry...I mean, your CHILD won't have to worry about getting told off for covering everything in glue.
It comes with fully illustrated instructions and the parts are already painted for you; the wings move, it has laser canons (of course) and a moveable cockpit cover and two figures are also included.
I LOVE this Millenium Falcon model kit and my youngest would too; a marvellous bargain for us Star Wars fans.
Thanks to lucersymum at HUKD