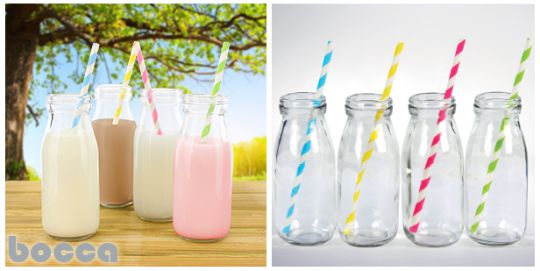 I have fallen in love with these super sweet Bocca Milk Bottles with Straws! If only I was throwing a party soon, they would be perfect! If you know anyone who is planning a party or a wedding or celebration of some sort then you must show them these. Not only are they adorable they are also a real bargain too, at less than £20. They are currently on sale in a case of 48 for just £19.08 at Home Bargains!
There are so many things you could do with these bottles, they look lovely with different coloured milkshakes in for a real 'school' retro look. Another option would be to use them as wedding favours, you could fill them with sweets or home made drinks for your guests to keep. They would also make gorgeous table decorations with a few sprigs of flowers in each for a real vintage look. They would be so cute with milk in for children's parties and baby showers too.
The case contains 48 250ml milk bottles along with 12 pink straws, 12 yellow straws, 12 blue straws and 12 green straws.
It is Click and Collect only on this item, home delivery is not available. However the Click and Collect service is free of charge.