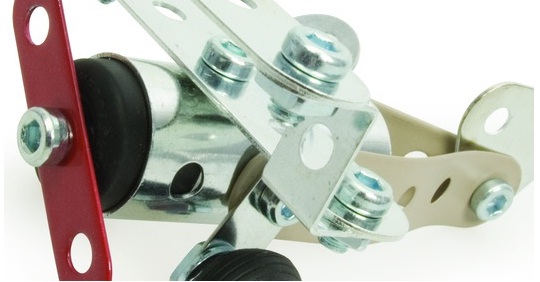 Do your children like construction stuff? Mine certainly does. These are two very good prices for the Micro and Maxi Meccano Kits from Maplin, and the best part is that it includes delivery. Standard delivery is free. The Micro Meccano Kits are priced at £2, and the Maxi Meccano Kits are priced at £3.
If you're building up a rain day activities box for the colder months (I heartily recommend this!) then these could be a great addition. There's virtually no information on the site about what you get in the kits. But I guess it is self evident from the photos.
The Micro kit appears to be an aeroplane, while the Maxi kit is a motorcycle. Something a bit like a Harley Davidson maybe. According to the description, all the tools you need are included. The site also says this about the Maxi set: "after the Micro Kits discover and collect the Meccano Maxi Kits: the next step in Metal Models".
I desperately wanted Meccano when I was a little girl, but I never got any. I think partly because it is that boy/girl thing, but mostly because it was relatively expensive stuff and money was pretty tight back then.
Is it wrong to buy your child toys that are secretly really for you to play with? Hmmm...
Thanks to goonertillidie at HUKD