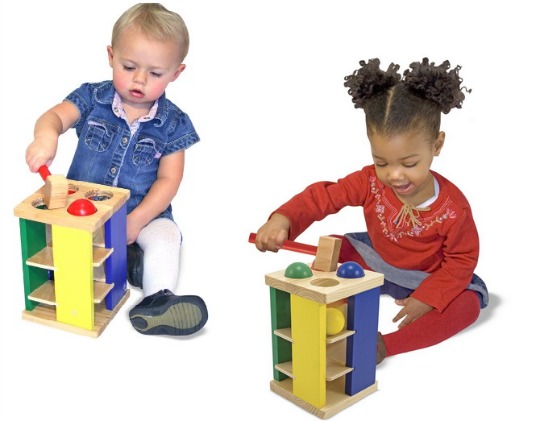 Melissa and Doug toys are ALWAYS mega popular, so when we find them reduced or at a great price, we post them on here as soon as we can. Why do people go nuts for them? The quality, the simplicity, plus they are just fantastic. We have found the Melissa and Doug Pound and Roll Tower for just £4.96 at Amazon. This is the best price it has ever been on Amazon and the best price online by far. You'd struggle to find it for under a tenner.
The Melissa and Doug Pound and Roll toy doesn't look fancy. It's not brimming with sounds and lights, but let me tell you, that isn't going to stop you child going for this every time. It's wooden and colourful, plus it comes with a wooden mallet!
By hammering the balls at the top of the tower, they drop and roll down to the bottom. Just repeat and see the excitement turn your little one into a crazy beast. They will be furiously smacking those balls to see them spin around the tower.
As the Melissa and Doug Pound and Roll Tower is below the threshold for Amazon's FREE Super Saver delivery, why not check out the lightening deals and see what other bargain you can add to your order?