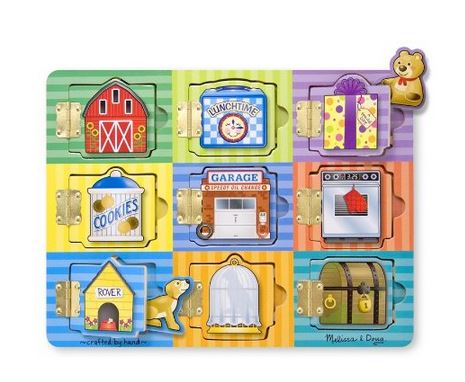 Amazon have an offer on the Melissa and Doug Magnetic Hide And Seek Board, which they're selling for £7.79. It's normally £12.99 and it's quite rare to find it for under £10.
Since she was really small, my oldest has always enjoyed a good game of hide and seek, especially while sitting in her car seat. So we'll be driving somewhere, and she'll be sitting in her seat and lift something in front of her face, and close her eyes and be 'hiding'. Then I, while driving, 'look' for her - behind the steering wheel, under the pedals, behind the rear view mirror - before finding her, every time, in her car seat. She loved it!
This game seems like a good alternative, and reading the reviews, this chunky and well constructed game is a good quality toy, perfect for little ones. It's recommended from 36 months, but reviewers say their 18 month olds love it, and the range stretches up to seven year olds too.
In the box you get an activity board with hinged doors and nine magnetic pieces for hiding, seeking, and remembering: brain training fun.
Thanks to smegheads69 at HUKD