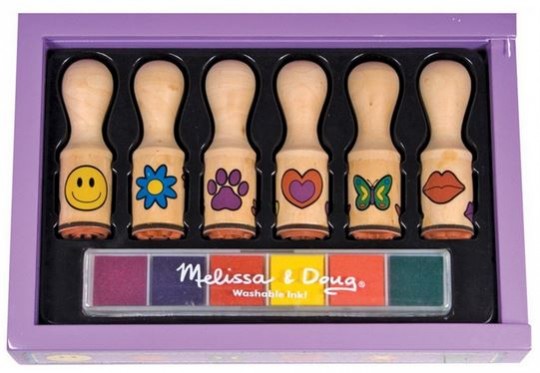 Amazon are selling a Melissa and Doug Happy Handle Stamp Set for £4.79 reduced from £7.99, saving 40%
My daughter received these for her second birthday, and has had plenty of fun with them. You'd be well served to read the reviews before buying so that you know what you're getting, because they do come up quite small.
I think that makes them ideal for travel actually, as they take up very little room, and the ink is pretty 'dry' meaning you're not going to get drippage everywhere, and you're working in a contained area, while sort of supervised.
The lines themselves are not as thick as thick and chunky as they seem in the picture, and they come out a lot more delicate.
The ink pad isn't great, because they're all quite close together, and there's a lot of crossover of colours, so it gets mucky very quickly, but we just replaced them with individual ink pads, and that worked really well.
Thanks to smegheads69 at HUKD