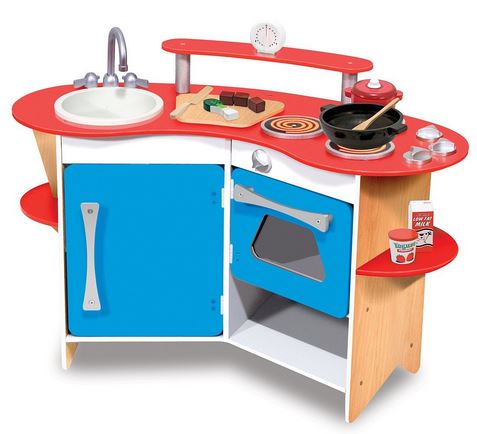 Amazon have reduced the Melissa and Doug Cook's Corner Wooden Kitchen to £76.40 - it was £62.35 earlier, but has gone up now. It's still £92.95 at The Wooden Toy Shop and around late £85 and up at eBay and Play.com
This kitchen gets crazily mixed reviews. Some much so, I'd say if you buy it, make sure you keep the receipt so you can exchange if need be.
The Corner Wooden Kitchen is a cabinet consisting of a removable sink, a 3-burner cook top and oven with clicking knobs, a refrigerator, storage shelves, a "cutting board" and a real, working, timer. It comes with everything in a box, flat packed and you'll need to put it together.  Some of the reviewers say it could really have come with some wooden food or utensils as they ended up spending almost as much again on those.
The Amazon blurb says that this is a very sturdy wooden kitchen, and the majority of the reviewers agree with that, calling it the best ever and stuff like that, but there are a few who have complained about it being flimsy and bits falling off. You always have to allow for human error in the construction, but if some are of inferior quality, it's good to be able to return it for a refund.
Thanks to Frank30uk at HUKD