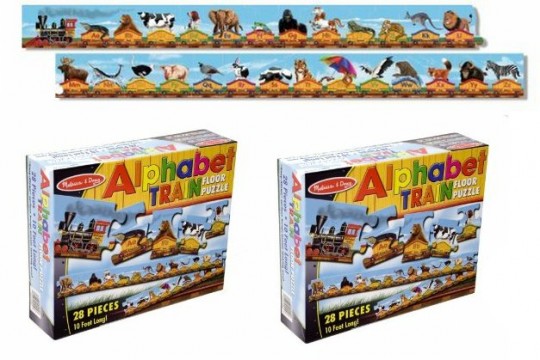 My daughter's going through a puzzle crazy stage right now and while I won't be reviewing every one of the jigsaws  we've acquired in the last while, this one was unique and different enough that it warranted being shared.
The Melissa and Doug 28-piece Alphabet Train Floor Puzzle (£7.99) is a beautiful piece of art, in a way. The puzzle pieces are two train parts and then 26 cargo carriages with animals on each carriage. The pieces are really large – about an adult hand size each – making them ideal for little ones. The pieces are made from extra-thick cardboard so they're sturdier than most and they have an easy-clean surface to make them easy to wipe down and keep looking good.
The animals are alphabetical – A for Aligator, B for Bear, C for Cow and so on. My little girl is pretty clued up on animals, but there were some new ones here for her, such as Quail, Vulture, Iguana and Yak. Each carriage has the alphabet letter in upper and lower case and the word of the animal is written out – with the exception of U which has 'umbrella' and a baby tiger hiding under an umbrella.
The whole set is really cute, and with a bit of help and guidance, a two year old can do it in about 20 or so minutes… but here's the thing: this puzzle is 10 foot long! For us that pretty much means we build it and break it down again. There's no keeping it up because it is pretty much the length of our living room and is definitely longer than our conservatory!
It's a great educational tool, I think, and it's a lot of fun to build together but it is loooooonnnnngggg. It would make a great border for a bedroom, if it were to be stuck on the wall!