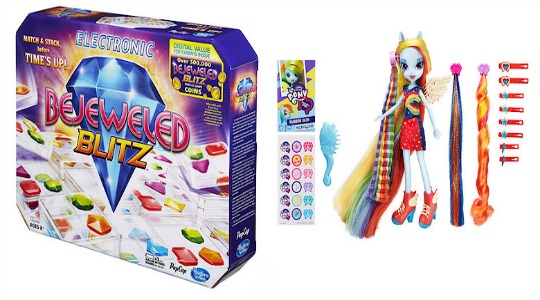 Needing to get some presents for all those parties the kids have been invited too? You might be interested to hear that The Entertainer have a special Up to 75% off even on this weekend. There are nine toys reduced, which isn't a lot but they are good deals all the same. I thought of birthday presents, party ones, as soon as I saw this deal.
My Little Pony was all the rage when I was a nipper, oh how I loved mine. It's nice to see that they have made a comeback. Sure, they have had a revamp but they are still as popular as they were in the 80's. Get this My Little Pony Equestria Girls Rainbow Dash Hairstyling Doll* for just £8. It was originally £20 and that's how much places like Very are selling it for.
My middle child Ben, loves playing on Android App Games so I reckon he would enjoy this electronic board game version of Bejewelled*. This was £29.99 and is now only £7.49.
You can Click and Collect your toy bargains for FREE from The Entertainer stores or you can pay £2.99 to have them delivered to your home.