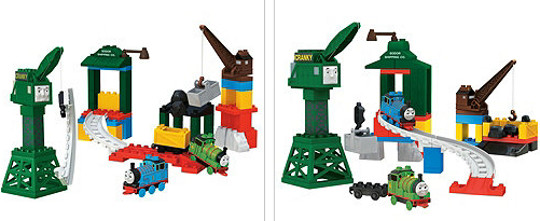 Mega Bloks Thomas And Friends Cranky At Brendam Docks Playset is on sale at Tesco for £10 which, they say, is a £30 reduction on the RRP.
Mega Bloks are such a favourite with kids and are generally cheaper than LEGO too, making them a favourite with parents too I suspect. This set has really good reviews on the Tesco site and apparently there are very few negative points to them.
One of the definite positives though is that it's easy for little hands to hold.
This set is very interactive for kids too. Cranky the Crane is helping with all the hard work. He'll haul coal to the waiting engines with his lifting hook, raising and lowering his hoisting rope. There' a smaller crane to lift the coal from the loading area to Cranky.
The buildable Sodor Shipping Co. station comes in authentic green and wood colours, making you feel as though you're really down on the tracks at Brendam. This fun Mega Bloks Brendam Docks playset is suitable for  children from 3 years+.
Thanks to phuqfaze at HUKD