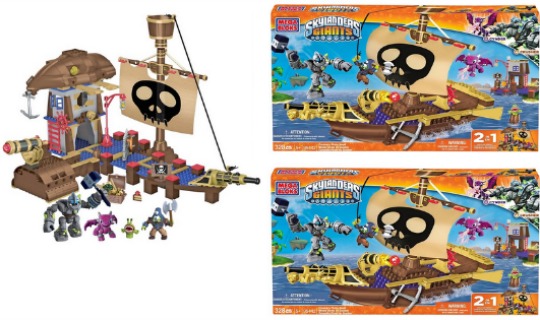 I know we are all sick of the sight of toys, after having to spend hours trawling the shops then taking equal amount of time to wrap them. BUT and it is a big BUT, this toy is a serious bargain. Very aren't necessarily known as a "cheap toys retailer" but every now and then they chuck out a gem, and this is one of those. You can get the Mega Bloks Skylanders Crushers Pirate Quest 2-in-1 Play Set for just £15 from Very. Considering this cost £50 originally, that is on heck of a saving! £35 to be precise. Note that this sold out mega fast at £14.99 at Smyths, and it's still much dearer at other retailers.
Take a child's favourite game characters plus a popular construction toy brand and what do you get? Amazing profit. Think Minecraft/Lego, this is down the same road really. Except it's much, much more affordable.
This Mega Bloks Skylanders set is a very reasonable size, so don't think you are getting a box that will fit into one hand, like you would with Lego.  In fact you get a whopping 314 pieces, that make a Pirate Ship and mini dock, or even a large dock if rearranged.
Select Collect+ to save on delivery charges and you then have the convenience of collecting it when you can. Which is better than missing couriers or postmen.