There are still loads of bargains to be had at the Early Learning Sale, like thi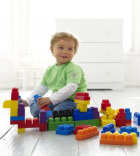 s mega bucket of Mega Bloks, now half price at £25.00.
I realise that to seasoned bargain hunters £25.00 doesn't sound exactly cheap for a kid's toy, but this is one of those items that counts as an investment; Mega Bloks literally last forever.
Mega Bloks are like the little kids' version of lego; the bright and chunky interlocking blocks are really easy to use, even for babies. and perfectly sized for little people's fingers. Unlike lots of toys it's practically impossible to lose or break a blok, and there is an almost endless array of things you can build. Mega Bloks are also great for helping toddlers identify colours.
In this deal you get 120 bloks in a sturdy bucket which doubles as a storage container, and according to the ELC's website, this item develops creativity, imagination, reasoning, problem-solving and fine motor skills.