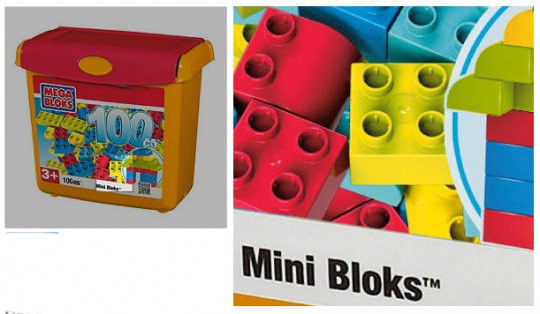 Mega Bloks Mini Bloks tubs with 100 pieces are on sale at Tesco Direct for £5 instead of £7.46.
So, Mega Bloks, suitable from 3 years, no batteries, and - for some ridiculous reason - marked as 'boys', come in a yellow tub with a red lid, perfect for storing.
That's about the sum of the information you'll find on the website.
Of course, any parent will tell you that the kids - girls or boys - will have a field day with Mega Bloks, and I know more than a handful of under threes that play with it too.
Having a storage box for it is really useful though. Toys that come in bits and pieces can go everywhere, and quite frankly, that's a pain in the butt - although more commonly in the foot! Nothing wrong with taking a couple of pounds off this popular child's toy, and helping them build coordination, logic, develop problem solving skills and imagination.
Thanks to shosho1509 at HUKD