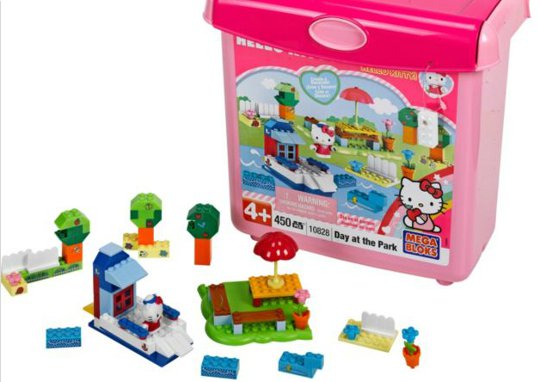 The 450 piece Mega Bloks Hello Kitty Scoop and Build Tub is on sale at Argos for £10.99 instead of £24.99. It's currently available from an Amazon seller for £37.99. I can't seem to find it available anywhere else.
This seems to be quite a large set, with 450 pieces aimed at the over four age group, it also contains a sticker sheet and comes in a decorative storage bin. The lid of the storage bin can be used as a scoop for quick and easy cleaning up.
The blocks themselves are themed for summer and picnics, with a good sized Hello Kitty figure for playing with. There's a boat, a picnic area and even special decorative blocks you can use the stickers on. Picnic done, Hello Kitty can pick fruit out of the trees and hide from the summer sun (!) under a red and yellow parasol.
The reviewers on it are all happy with it, and their children all seem to love it.  Seems like pretty good value for money!
Thanks to beanz-on-toast at HUKD