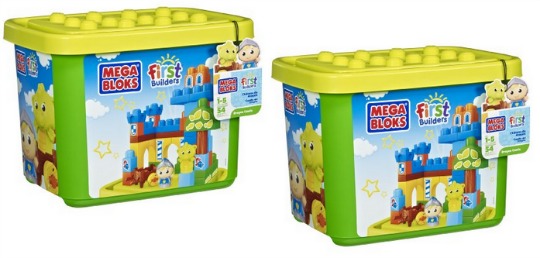 Gosh, Amazon are certainly churning out the bargains today! Here's another good deal, Mega Bloks Dragon Castle Bucket for only £14.23 delivered. It is £19.99 at Tesco Direct and the next cheapest I could find was Asda at £16.49 with no free delivery.
The Mega Bloks Dragon Castle Bucket is from the Mega Bloks First Builders range and is aimed at little ones that have never used construction toys before. All of the bits in this bucket set are chunky which means they are suitable for age one and over.
It contains 54 pieces and that includes a knight and dragon figurine. There's a sticker sheet to decorate the blocks to make the castle.
This looks like a fine starter set for a small child to get their creative sides out or perhaps to introduce them in how to follow simple instructions. Sets like this are always a hit with children and are often seen in nurseries and preschools as they really do get their miniature brains working.
This would be a fine purchase to tuck away for Christmas or to use as a birthday gift. I like that this Mega Bloks Dragon Castle bucket comes in its own little storage box. Always a handy thing, so that you're not forever standing on pieces that are strewn all over their bedrooms.