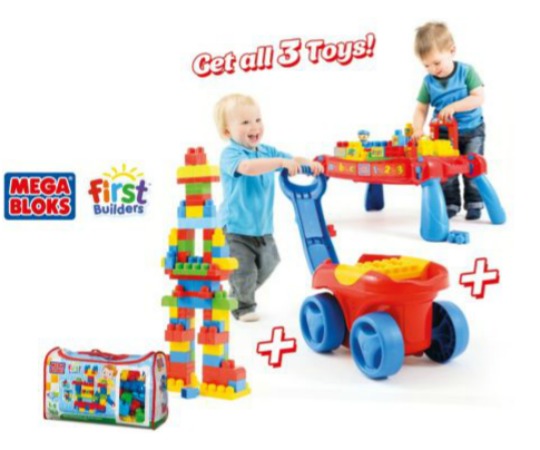 Updated : Now with 15% off this one is even more of a bargain at just £33.99!
This one says reduced from £99.99 but we know Argos and those before prices, however for the 3 items you receive I do think this one looks well worth the £39.99 price tag.
For £39.99 you get all three items pictured, that is the First Builders Build n learn Table, the Play n Go Wagon and a 160 pc deluxe bag. The individual prices of these on Argos are £29.99, £23.99 and £29.99 respectively so a combined total of £83.97 if you were to purchase them all separately from Argos and you'd save £43.98 by buying the Super set.
Great reviews on this one too, out of 5 reviews, 4 left the full 5 stars, with the other leaving 4 stars. A typical comment reads :
What a bargain

All the products come in one big box so park as close to argos as you can if you go to pick this up.

Bought this for my one year old son he already had a small box of mega blocks so knew he would play with this.

The table is not very sturdy and it's at just the right height for my little one to climb on so currently using on the floor without the legs

Such a bargain for the amount you get. A perfect 1st birthday present.
As is often the case you can collect from your local Argos store for free or opt for home delivery for an additional £3.95.